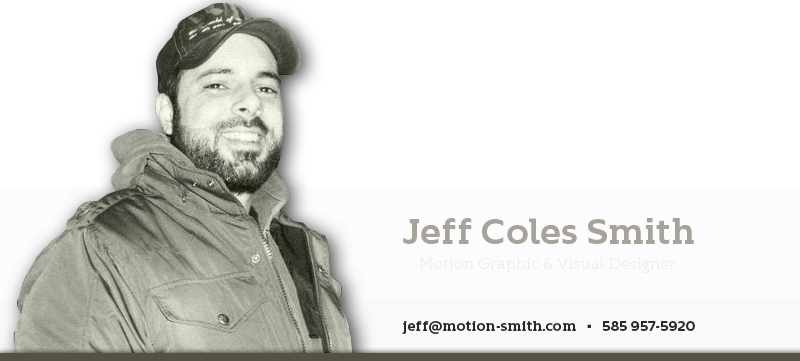 I specialize in ideation and creation of 2D/3D motion graphic content for mediums such as broadcast, online, outdoor and events, for clientele in various industries.  I'm creative by nature, I have a propensity for curiosity, a tendency toward analysis, and have evolved throughout the years to understand the logical scope of projects.  I start every project by understanding why the subject matters and to whom.  Then all the things that matter to me as an artist take over:  visuals, sounds, space, pace, flow, imagery, stories, emotions, mood, intentions. 
I am a 2002 Digital Media graduate from Full Sail University. I spent my first several years out of school as an interactive UI/UX designer, mostly pushing pixels around in Flash.  Around 2009, my focus began to shift to motion graphic content creation. I still love a good UI/UX design project, but much of my time these days has been devoted to After Effects.
In 2012, I left my position creating multimedia and mo-graph content within the event and trade show industry and took advantage of an opportunity to work as a freelance on a distributed team developing explainer videos & book trailers. I have since worked with many clients and teams on a range of exciting projects and have been building on my DOOH/event screen content design experience. 
Lets talk.
585 757-5920
jeff.jcscoles